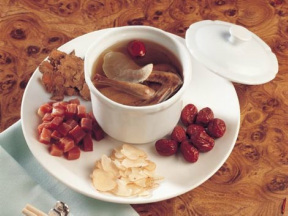 Although it may seem a little premature, it is never too early to start preparing your body for the changes that happen when one season transitions to the next. This is often a time when people get worn down, and sick with various aliments. The transition can be particularly difficult when going from summer to autumn, and this soup is often used by people who know Traditional Chinese Medicine (TCM) to help prevent colds, and to generally boost the immune system, leading to a greater chance of avoiding the illnesses that can often plague the body at this time of year.

Follow the simple recipe below to make your own Change of Season soup:

Ingredients

2-3 oz. each

Codonopsis Root
Strengthens Qi and nourishes blood

Astragalus Root
Builds protective defenses, helps to tonify blood and lungs

Dioscorea Root
Helps to tonify and balance lungs and kidneys

Chinese Lycii Berries
Strengthens liver and kidneys


Instructions

Fill a large stock pot with water and add the herbs. Bring to a boil and then simmer for 4-6 hours, adding more water to replace any water that may evaporate away. Remove the herbs and drink the broth by sipping throughout the day, or use as a base stock for other soups. This will make about 4 litres of soup. The broth will have a slightly bitter taste.


It's as simple as that! Remember, prevention is preferable to treatment!